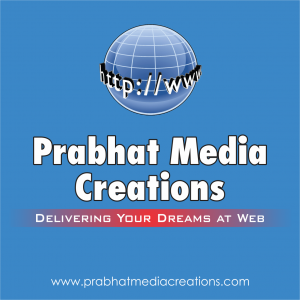 At Prabhat Media Creations, we are dedicated to providing comprehensive website development solutions tailored to meet the unique needs of businesses and individuals. Our team of experienced developers and designers is committed to delivering high-quality websites that are visually appealing, user-friendly, and optimized for performance. Whether you require a simple informational website or a complex e-commerce platform, we have the expertise to bring your vision to life. Explore our range of services below:
Custom Website Development: Our skilled developers excel at creating custom websites from scratch, ensuring that every aspect of your online presence is tailored to your specific requirements. We use the latest technologies and coding practices to build responsive websites that function seamlessly across devices. Our focus is on delivering a user-friendly experience that engages visitors and drives conversions.

E-commerce Development: If you're looking to establish an online store or enhance your existing e-commerce platform, our e-commerce development services are designed to meet your needs. We specialize in building robust, secure, and scalable e-commerce websites that facilitate easy product management, streamlined checkout processes, and secure payment gateways. With our solutions, you can maximize your online sales potential.

Content Management Systems (CMS): Managing your website's content should be a hassle-free task. Our team is proficient in developing websites using popular content management systems like WordPress, Drupal, Joomla, and more. We empower you with the ability to update, edit, and organize your website content effortlessly. With a user-friendly CMS, you can maintain your online presence and keep your website up to date without technical expertise.

Responsive Web Design: In today's mobile-driven world, it's crucial to have a website that adapts seamlessly to different screen sizes and devices. Our responsive web design services ensure that your website provides an optimal viewing experience, regardless of whether visitors access it from a desktop, laptop, tablet, or smartphone. By leveraging the latest techniques, we create websites that are visually stunning and highly functional across all platforms.

Website Maintenance and Support: Maintaining a website requires ongoing attention to ensure its performance, security, and functionality. We offer comprehensive website maintenance and support services to keep your website running smoothly. From regular updates and backups to troubleshooting and resolving technical issues, our team is dedicated to ensuring your website remains secure and up to date.

UI/UX Design: User experience is a key factor in determining the success of a website. Our UI/UX design services focus on creating intuitive and visually appealing interfaces that enhance user engagement. We combine user research, wireframing, prototyping, and visual design to deliver websites that provide seamless navigation, clear calls to action, and a memorable user experience.

Search Engine Optimization (SEO): Having a well-designed website is only the first step. Our SEO services help increase your website's visibility on search engines, driving organic traffic and attracting potential customers. We optimize your website's structure, content, and meta-tags to improve its search engine rankings, ensuring that your business stands out among the competition.
Choose Prabhat Media Creations for Professional Website Development.
With our range of website development services, we strive to be your trusted partner in transforming your online presence. Our team's expertise, attention to detail, and commitment to excellence ensure that every project we undertake exceeds your expectations. Whether you're a small business, a startup, or a large enterprise, we have the skills and experience to deliver a website that meets your goals and helps you succeed in the digital landscape.
Contact us today to discuss your website development needs and let us help you turn your vision into a reality.